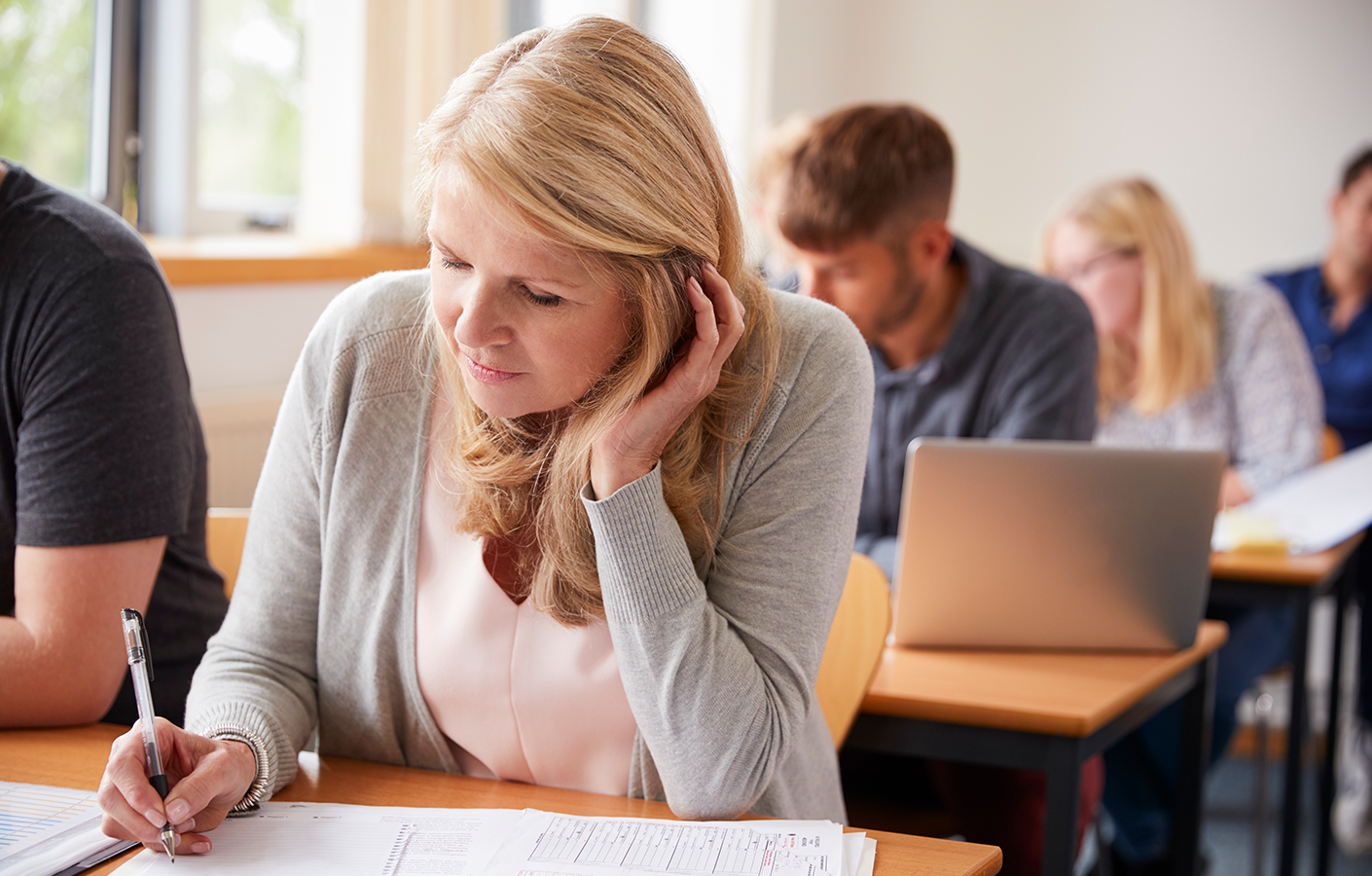 Getting a degree—whether it's a bachelor's, master's or doctorate—can be intimidating. It doesn't matter if you're 18 or 80; earning a degree takes you out of your comfort zone and thrusts you into a world of new experiences, new relationships and new demands.
When you've been out of the school environment for a few years, you're even more likely to view the prospect of returning to college with trepidation. While your hesitation is completely understandable, it shouldn't hold you back from pursuing the life you want.
You may be contemplating your future right now, since the threat of COVID-19 may have reduced your work hours or shut down your company altogether. Suddenly displaced, you might be wondering what the workforce will look like once things get back to "normal."
Now, a degree is more attractive than ever before. In this uncertain world we find ourselves living in, earning a bachelor's, master's or doctoral degree can mean a greater chance of job security—even if it's been years since you were a student.
Preparing to return to school after a long hiatus
If you're in your 30s, 40s, 50s or even 60s and beyond (yes, it's never too late to go back to school!), you should anticipate certain challenges in becoming a student once again.
Going back to school can run the gamut of completing a long-abandoned bachelor's degree to getting an advanced degree in your field of specialty. Of course, your situation will be unique to your specific circumstances, personality and goals.
But students returning to college following a big gap—regardless of the degree they're pursuing—have similar challenges across the board. Going into the experience anticipating them will make your transition much easier, which helps ensure your success.
Embrace your passions and be flexible.
Maybe you began one degree in your late teens but now it no longer excites you, or maybe your industry has changed so much that you know most of what you learned "way back when" is irrelevant now.
Perhaps you've worked for several years in one field and have always thought a master's degree in a related program would be your next step, but now you're contemplating a mid-life career shift as you eye something totally different.
Now's the time to explore your professional passions and unique calling. If your previous path of study no longer excites you or the career forecast in that field is bleak, don't feel obligated to just "pick up where you left off."
Similarly, getting a degree related to your work experience will offer few long-term benefits if you've become disinterested in your current career.
Take inventory of where your heart's desires are leading you and follow that path—even if it takes you in a new or unexpected direction. While you may need to pivot slightly to catch up with credits or prerequisites, you'll be a more successful student when you're excited about your program and the possibilities it offers.
Consider these questions as you decide which academic path to pursue:
How am I gifted? Where am I called? What excites me to get out of bed every morning?
Which careers have the most longevity?
What are in-demand jobs now?
What job opportunities are predicted to increase after the COVID-19 crisis and beyond?
What's most important: earning potential, flexibility, stability, service, and so forth?
Get help from an enrollment counselor.
With your own research and answers to these questions in hand, your next step is to talk with an enrollment counselor.
He or she will take a look at what credits you've already earned and how they may transfer to a Trevecca degree. This will give you a complete picture of what's available to you, what you'd be best suited to study, how to follow your calling and the most efficient and economic path to take.
Discover a new way to learn.
When you last attended college classes, were you using a typewriter and Wite-Out®?
Technology has shifted every facet of society, and academia is no exception.
Don't worry; you'll flourish in the world of online classes and digital documents. But give yourself some grace to adapt to it.
Prepare for adjusting to learning new things—even as you prepare to learn once again. If you're new to Trevecca, you'll need to acquaint yourself with how we do things here on the Hill. You'll have program and class requirements to meet. The rhythm of self-paced learning with instruction presented online and interacting with classmates and professors digitally are yet other adjustments for many.
Ask questions and lean on your classmates and professors for help. At Trevecca, we're a family and we're all in this together.
With more online students than any other institution in Middle Tennessee, we have been doing online education successfully for more than a decade. We're committed to helping you succeed and that includes helping you overcome any adjustments you have when it comes to remote learning.
You can achieve your college degree even after a big gap.
Adding "student" to your list of responsibilities that may also include "spouse," "parent" or "employee" can seem daunting, but we're here to help make your decision easier. Regardless of the degree program you seek, going back to school after a gap of several years is completely doable and can mesh well with the rest of your life.
---
Got questions about returning to school after being out for many years?
Contact us today to speak with an enrollment counselor. We're happy to talk with you about your options and how a Trevecca degree fits into your future.