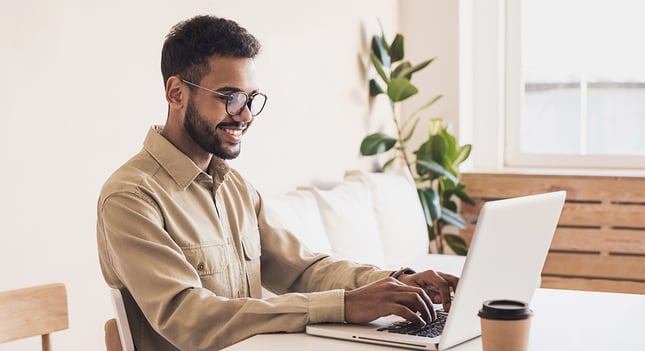 You're ready to finish the college degree you started years ago, or you're finally committed to pursuing the bachelor's degree you put off. Maybe you're looking at a master's or doctoral degree. Regardless of what degree you hope to earn, one thing is certain: you're not so sure how it's going to happen.
Maybe you have a full-time job, a spouse who travels for work, or three busy kids with extracurricular activities that fill many afternoons and weekends.
Getting your degree online seems like the most practical and doable way to go—but how do you choose the right program? How do you find a university that delivers a quality experience and offers a valuable return on your investment of time, effort and resources? You want to make sure the degree you earn is worth far more than the paper it's printed on.
At Trevecca, we speak from experience and with authority on this topic. We were one of the first institutions in Middle Tennessee to pursue online education. Trevecca currently has more than 1,500 students completing their degrees online at every level—from associate to doctoral—which, according to data compiled by the Nashville Business Journal, is more than any other college or university in Nashville.
Consider these five questions to ask when choosing an online university:
1. What is the university's history and reputation?

In order to choose a university with a solid reputation for educational excellence, you'll want to examine the institution's longevity, standing within the community, vision and mission.
Keep in mind that your name will forever be aligned with this university once you have a degree in hand. Consider carefully if you will be proud to call it your alma mater even years after graduation.
As an educational pillar in Nashville, Trevecca's mission has always remained the same—to prepare students for lives of leadership and service while fostering intellectual growth, spiritual devotion and professional success. Since 1901, we've accomplished this by leading the way in key initiatives.
2. What is the university's job placement rate?
Take a good look at the website of the school you're exploring and see what clues you can uncover about job placement for graduates. Schools with good job placement rates will publicize those. If those numbers are missing, it could signal a less-than-positive statistic.
Ask the admissions counselors to provide job placement numbers for you for the degree that you're interested in pursuing.
Trevecca graduates consistently find work upon graduation. Our most recent research data shows that within five years of graduation, 94 percent of non-traditional undergraduate students and 93 percent of graduate students were working either for an organization, were self-employed or were serving in the military.
A degree from Trevecca is an asset to job hunters and is respected by employers.
3. How is the institution accredited?

As you consider your online education options, you'll want to find out about the institution's accreditation—which is just a fancy way of saying the curriculum meets certain academic standards. You will want to make sure the accrediting body is recognized by the Council for Higher Education Accreditation or the Department of Education, nationally recognized accrediting bodies that ensure you get a quality education.
Check out the College Navigator Tool on the Department of Education's website. Type in the name of the university you're interested in, and you can see all sorts of basic information and stats on the institution, including its accreditations.
Accredited by the Southern Association of Colleges and Schools, Trevecca offers top-quality online degree programs for learners who are seeking degrees at the associate, bachelor, master's and doctoral level.
4. How many students are enrolled online?

A robust online program means the university is doing something right. If you find a university that offers multiple programs to thousands of students, then you can be fairly certain there are administrative processes and systems in place that are helping students succeed.
With deep roots in the community and a long history of shaping graduates who make a difference, Trevecca is home to thousands of students from all over the world. We have been online for more than a decade.
We have no classroom or residency requirements; our online programs are actually fully online. With Trevecca's asynchronous format, you can go to school at the time of day that best fits your schedule. You'll focus on one class at a time, and books and materials are delivered right to your home.
5. As an online student, will I just be a name on a screen?
One of the benefits of attending class on a college campus is the face-to-face interaction with professors and other students. At some universities, online students are just another thumbnail pic. The classes are impersonal, the classroom experience is non-existent and the professor is not invested personally with any of the students.
For Trevecca's online programs, we work hard to overcome every one of these pitfalls. As an online student, you'll receive the same material that's presented in an on-campus classroom setting. Classes are purposely small (usually with fewer than 20 students). You'll work together in this small cohort of fellow students for the entirety of your program, which facilitates collaboration and strong relationships. Professors, too, get to know their students well and act as trusted mentors, not strangers behind a keyboard.
---
Have questions?
Contact us today to speak with an enrollment counselor. We're happy to talk with you about your options and how a Trevecca degree fits into your future.