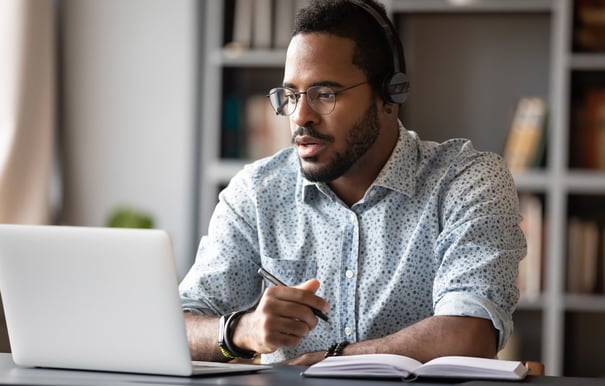 Considering earning a degree online? Even as the number of students taking online courses continues to increase, misconceptions about online education still exist. At Trevecca, we've been offering online degrees longer than any other Nashville-area institution and know how rich an experience it can be—plus it offers flexibility and affordability.
Let's set the record straight about six of the most frequent myths of online learning.
You won't be able to interact with fellow students or your professor very much.
It's a common misconception that it's too hard to connect with others in online classes. But that's not true. Many classes include group projects to encourage interaction among students. You won't be an anonymous face in a crowd since online discussions are usually required, and professors give detailed feedback. In addition, professors strive to find ways to connect with each student personally.

Take it from one of our recent degree-completion students, Lisa Heffron: "Even though my program was exclusively online, I never felt anonymous. Being online allowed greater flexibility in scheduling time for homework than if I had a set schedule for face-to-face classes."


Online learning is boring.
Online programs aren't replicas of lecture-based college classes. The courses are specifically designed to be taught online, using various technologies and learning tools that immerse students in the content. Expect to engage with fellow students as you dive into videos, articles, and hands-on activities that help you to understand the topic and apply what you're learning.


Online classes are easier.
There's an old stereotype of online learning that implies the courses aren't as high quality or as rigorous as the traditional classroom setting. Online learning requires a lot from the student. You have to take responsibility for getting the work done, meeting deadlines and reaching out for help when you need it. When you finish your online degree, you'll discover you've also developed organization, time management, communication skills and more along the way.



Online students can't receive financial aid.


Nothing could be further from the truth! If you're enrolled in an online program through an accredited school, you are eligible for financial aid if you qualify. In order to know what kind of federal aid is available to you, you'll need to fill out the Free Application for Federal Student Aid (FAFSA

). You can learn more about that

here. In addition, make sure you talk with the university's financial aid office to find out answers to any questions you have and to ask about other options that may be available to you.


Online programs aren't very flexible.
One of the best things about online programs is their flexibility, allowing you to fit your classwork around your busy schedule. While online programs do have firm start and end dates, as well as deadlines, quizzes and exams, you determine when you work on them—from after work, when the kids are in bed or on weekends. At Trevecca, professors clearly communicate any deadlines, and students are given ample time to complete their assignments. Plus, each due date and completed class moves you closer to your goal: your degree!


You'll have fewer job options with an online degree.
When you earn your degree from an accredited institution, a degree is a degree, whether you earned it online or on campus. While so-called "degree mills" may exist, many colleges and universities with long histories of providing top-notch educations—like Trevecca—offer vibrant online learning experiences. With deep roots in Nashville, Trevecca has been developing leaders since 1901. A degree from Trevecca, no matter how you earned it, will open doors for you rather than close them!
We know online education.
For more than a century, Trevecca has paved the way in higher education in Middle Tennessee. We're historically rooted and academically innovative. For more than a decade, we've offered fully online programs that make it possible for students to reach their educational goals without ever stepping foot in a classroom.
---
Want to know more?
Ready to ditch the myths of online education and see for yourself how rewarding an earning your degree with Trevecca can be?