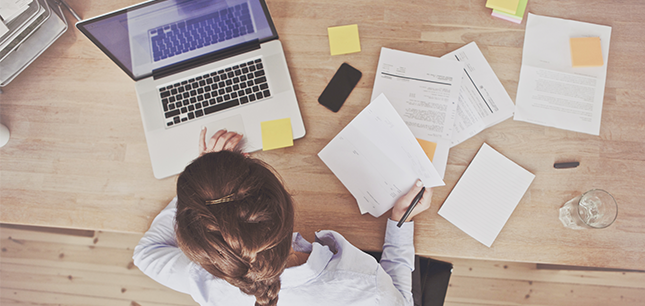 Finish that presentation for work. Get the kids to practice. Prepare to teach fifth graders at church. Finish the reading for class. As an adult learner, your schedule is generally always packed. Trying to strike a balance among the many responsibilities pulling at your time and focus sometimes seems downright impossible.
If you're struggling to juggle work, family, church and school, you're not alone! We talked with Dr. Angela Talley, director of student success and advising in Trevecca's School of Graduate and Continuing Studies for some advice for busy students. Check out her suggestions.
Get organized.
"Not everyone has the gift of organization, but it doesn't have to be this big elaborate thing," Talley said. "Organize your time and look ahead at what you have scheduled." Talley advised taking some time each month to look at all the schedules that affect your life—work, church, school and any activities your children are involved in—and making a master schedule for the month, prioritizing the things that absolutely have to get done. Set aside time for studying, as well as church and family activities. "Don't spend too much time on schoolwork and neglect family time," Talley said. "That gets stressful, too."
Be flexible.
"I'm a big planner, but you have to have the ability to be flexible," Talley advised. While having a plan for how you'll tackle your schoolwork and keep up with work, family and church responsibilities is vitally important, students also need to remember that things happen. A child might get sick, you have to work late or a can't-miss event could spring up on a night you'd scheduled for schoolwork. "Show yourself some grace and be flexible with your time, knowing that your plans may have to change," Talley said. "Be able to adapt to that and don't allow that to create frustration and stress."
Make time to rest.
"I think a lot of times as adult learners, we just pack our lives full," Talley said. "We've got work, church, family, school and all those different things. Make sure you create some time to rest because you can't be productive if you haven't rested." Talley stressed the importance of taking a break—whether taking a day off from work or schoolwork—simply to rest and regroup, so students can return to their work and studies refreshed.
Be realistic and keep your goals in focus.
"I think sometimes we think that school won't take up much of our time, but it really does," Talley said. "Be realistic about the work you'll have to do and keep your goals in focus." In difficult times, when carrying the load of family, work and school seem a little too heavy, Talley advised students to recall why they started working toward this goal in the first place. "Always keep your why in mind," she said. "Stay focused on the goal and why you're doing this. When it's over—and this is only a season—you'll be glad you pushed through."
Set aside time for family and friends.
Make time for the relationships that matter most in your life, Talley said. Don't let school or work get in the way of spending time with your spouse, family and friends. Let them know when you're available, but also set aside time to spend with them specifically. Know that you may have to work ahead on schoolwork or spend a few late nights at work to do so. "It's very easy to put them to the side because they do understand [and want you to achieve your goal], but you do have to create some type of balance," Talley said.
Find your fans.
"Surround yourself with positive people who can help you deal with frustration and readjust," Talley said. She also stressed the importance of leaning on fellow classmates and cohort members, something that helped her while pursuing her doctorate. "That was really huge for me," Talley said. "[It helped me] to know I wasn't alone."