Testify: Trevecca's Worship Gospel Choir Building on Reputation with Big Collaborations
| Mission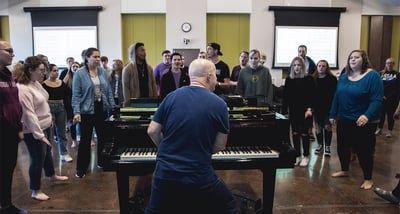 When needs arise for quality group vocals, the Christian music industry in Nashville is turning more and more to the talented performers at Trevecca - and to the school's worship choir, Testify, in particular.
Recently, Testify has discovered opportunities with artists like Rebekah White, the writer of the song "Rest on Us," which has 10 million downloads.
"When she decides to do the video for the song, she is going to use Testify," said Mark Hosny, the choir's longtime director who wrote a spiritual to segue into the song. "It will be released for her single. We're pretty honored and pumped to do that on a stage with somebody who has written some pretty incredible songs."
Testify also had a chance to sing backup vocals for Tasha Layton, who has more than 400,000 monthly listeners on Spotify.
"Keith Smith, the producer of her album, needed some gang vocals for the song 'This is Christmas,'" said Hosny. "Keith is also Toby Mac's musical director, and has used Testify before. Because the choir has been reliable and prepared to perform at a high level, he continues to call us when he needs extra vocals for a project."
Of course, Hosny's performers didn't start out as a go-to group for major artists. Testify began with a very small group of students.
"Four girls, eight guys and three of those guys could not sing," he said. "That was the first official Testify choir. But we just kept being diligent and now, this semester, we have 45, which is a blessing."
Testify requires no audition and has attracted students from all majors including film, computer science and psychology.
Hosny hopes Testify's influence will continue to grow in the Christian music industry because of their commitment to God and worship above all else.
"These are great opportunities for our kids but we're really about serving God," said Hosny.
"One of my goals is that we would become one of the premier choirs to sing for in the industry. So if they need a choir for a chorus ... or some extra vocals ... they would choose us, not necessarily because of our sound but more because of our heart and our desire to worship."
The choir recently recorded at Paragon Studios in Franklin, Tenn. which has hosted artists such as Carrie Underwood, Keith Urban and Amy Grant. Testify recorded two songs there, "That's My Jesus" and a Christmas medley.
"[These students] are here in Nashville, they've come to Trevecca ... and now they get an opportunity to do something that the pros get to do," said Hosny. "I mean from TV shows to albums, there's top dog people that have sung at that place and the kids are going to get to experience how it is in the real world."
For Andrew Childers, a sophomore psychology major from Kentucky who began singing only a few years ago, his involvement in the choir has been enjoyable and transformative.
"God is doing some cool things ... and honestly Testify is really fun right now," said Childers. "I absolutely would not be spiritually and emotionally who I am if it wasn't for Testify."
As Hosny looks back at those early days, when he started with a limited number of students and opportunities, he has been able to see the impact of God's faithfulness and choosing not to lose hope.
"It was the hardest thing I had to do but it's only by the grace of God and knowing that he was guiding it, that I just continued to stay the course and know that someday he was going to open up the doors," said Hosny. "Now in my tenth year I feel like this year the rivers are now just flooding because God said 'you've been faithful and now this is the time."