Taking a Career to the Next Level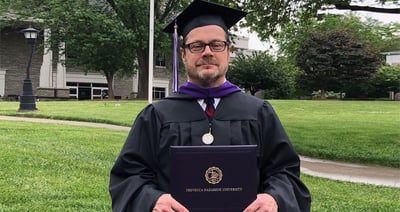 Eight years into a career that involved transition training for military service members, Wade Jaynes decided to pursue a degree in instructional design at Trevecca Nazarene University. His time for school activities was limited due to a full-time job and family life.
Fortunately, Trevecca's School of Graduate and Continuing Studies offered an online master's program that allowed him to study around his schedule, and he completed his degree within 15 months. He now works as an instructional designer and has a federal contract to support transitioning service members.
"I discovered instructional design through my past responsibilities," Jaynes said. "I enjoy conceptualizing and designing training content, and I love solving problems. I decided to pursue a master's degree in instructional design and technology at Trevecca because the curriculum was an awesome balance of theory and practical coursework, with a lot of technology-oriented classes."
"I also liked that the program wasn't geared solely toward educators or corporate training, so my class assignments could involve areas that were related to my professional interests. That had a big impact on my continued enjoyment of the assignments, and it helped me create a relevant portfolio. My cohort had teachers and trainers; it was a great mix," Jaynes said.
When Jaynes talks with anyone interested in pursuing a career in instructional design, he encourages them to consider Trevecca and the benefits of its program. "Every assignment is something you can put into a portfolio and share with a future employer. The way the program at Trevecca is designed, you can both develop and demonstrate your skills. There is no busy work or wasted effort. All the courses are directly relevant to working as an instructional designer."