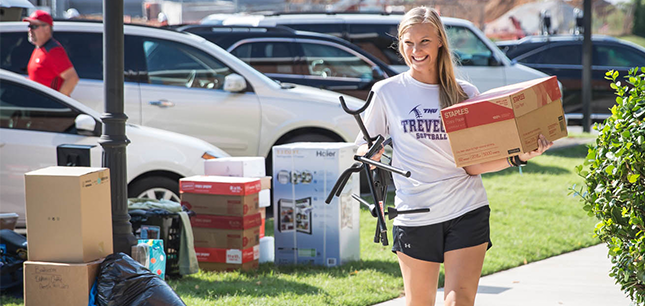 All over campus, students have moved into Trevecca's residence halls. As the parent of a senior, you've dropped off your child for a new semester so many times you can recognize first-time college parents and freshmen at a glance.
While you're incredibly proud of the person your child has become and can't wait to see where life takes him or her, you feel a little lost in the crowd. Your student really didn't even need your help setting up his or her room—and has waved goodbye and walked off with a group of friends without hesitating.
Don't discount the importance of this moment. Moving your child to college as a freshman was a big day, but so is the start of his or her senior year of college. Here are a few tips to help parents of college seniors make the most of this year.
1. Take a deep breath.
When you moved your son or daughter to campus as a freshman, this was the goal. You wanted your child to earn a degree and grow in maturity. You wanted him or her to learn how to be independent and make wise decisions. Today is a day to celebrate that. Throughout the course of the next two semesters, take some time to think about how your son or daughter has grown—academically, spiritually and personally—over the past few years.
2. Be a guide, not a boss.
Your son or daughter is just as nervous about what's next as you are. Whether he or she is heading out to that first job after college or straight to graduate school, know that you're both thinking about it fairly regularly. Offer advice and pray with your student about big decisions, but fight the urge to simply tell them what to do.
3. Make the most out of senior year.
This year is going to go by quickly. Your student may not believe that, but in just a few months time, you'll be watching him or her march across the Quad in a cap and gown. It's easy for both of you to get caught up in the rush of senior year, but don't be so focused on the goal that you overlook special moments. Encourage your student to plan for the future, but to also take part in campus events and spend time with friends. With grad school or gainful employment in your child's future, he or she may not be able to take long vacations or breaks over the holidays in the future, so savor your family time. Most of all, when "senioritis" sets in during the second semester of this year, challenge your student to finish well.
4. Know that things will change.
Your relationship with your child has probably changed a little since that day you first helped move him or her to Trevecca. This year, your student will make some big decisions that have bearing on the next chapter of his or her life—about career paths, relationships and more. This academic year will involve a lot of growth and change—for both of you. Instead of fighting against it, acknowledge your ever-changing relationship and learn work through conflict like adults.
Most of all, count your blessings. You won't have to face the stress of college move-in day again—well, at least until your younger children move to campus!