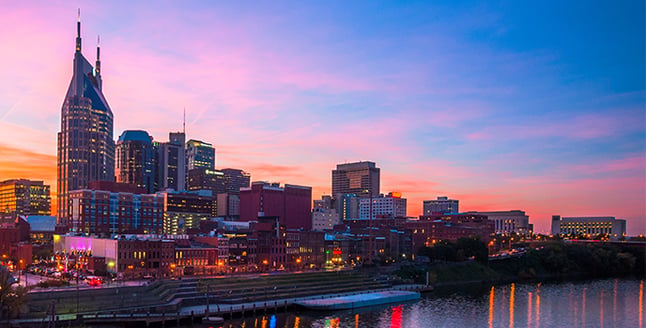 When Nashville business professionals and city officials gather at Trevecca for Nashville 2020: The Future of our Neighborhood, Trevecca and the surrounding neighborhood will be at the center of the discussion. As the city continues to grow, it's vital for business owners, professionals and community members to stay informed about what's happening in their neighborhoods. The October 26 panel discussion and luncheon is designed to do just that.
Here are a few facts and statistics that underline why planning for the city's future is vitally important.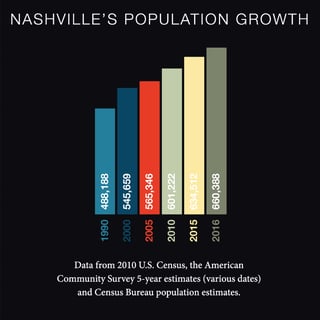 Nashville's population now tops 660,000 people, according to census reports.
The Nashville Next 2016 annual report recorded a 50 percent increase in the number of building permits issued in Nashville from the 2014-2015 fiscal year to 2015-2016.
Discussion continues about the redevelopment of the Greer Stadium site, located just under two miles from Trevecca's campus. The Cloud Hill proposal includes park and public open spaces, as well as affordable, workforce housing and retail and restaurant spaces. The project is very sensitive due to the historical significance of Fort Negley, which neighbors the site. It requires approval of the Metro Board of Parks and Recreation, Metro Planning Commission and Metro City Council.
The Nashville Area Metropolitan Planning Organization predicts that by 2034, the 10-county Cumberland Region surrounding Nashville will grow to 2.6 million, roughly the same size as Denver.
Nashville has reached a preliminary deal with a local investor group to finance a Major League Soccer stadium at the Nashville Fairgrounds, located about 2-3 miles from Trevecca's campus. A special Metro Council meeting is set for Monday, Oct. 2 at 3 p.m. to update the council.
The INRIX National Traffic Scorecard Report estimates that Nashvillians spent 33.6 peak travel hours in congestion in 2016. The city ranked 23rd out of 240 most congested cities in the United States.
Mayor Megan Barry's administration has proposed a May 2018 referendum, which would fund a nearly $6 billion comprehensive, regional transit system. The proposed project would span several decades and includes plans for a light rail system along five main corridors, including Nolensville Road and Murfreesboro Pike.
Construction has already begun on the new Metro Nashville Police Department headquarters and adjacent Family Justice Center located at 600 Murfreesboro Pike. It's hoped the project will spur revitalization along the Murfreesboro corridor.
Learn more on Oct. 26. The luncheon and panel discussion is scheduled from 11:30 a.m. until 1 p.m. in the Boone Convocation Center on Trevecca's campus.