Learning to Lead: Homecoming award winner Kristin Bledsoe
| Awards
The recipient of this year's First Chapter Award, Kristin Bledsoe, serves as the associate director of Trevecca's online Doctor of Education program in leadership (Ed.D.). As the 2021 Homecoming festivities approached, she shared about her journey as a student, alumna and instructor at Trevecca.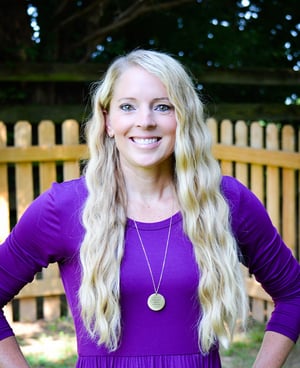 When I think back to my early teens, I distinctly remember three things that I loved doing, and to this day I'm still passionate about them. The first is drinking Dr. Pepper. The second is playing/coaching basketball. The third is teaching. Trevecca allowed me to accomplish all three (if you count Mr. Pibb as a good substitute). I think I've always known that I wanted to help people, whether on the court or in a classroom. I love to build relationships, instill confidence, and watch others grow. I believe it's my calling, and I was in my undergrad years at Trevecca when I really discovered this gift.
My sophomore year in high school, I met the Trevecca basketball coach and had my first campus tour. It hit me immediately – the certainty that this was the place for me. I think it was because the people felt like one big family, and the campus was a safe place where I could sense the strong community. People I didn't know were already giving their time to meet me and call me by name, and that made a strong impression. Everyone I met was genuinely kind and encouraging, which fueled my passion for helping others.
With a basketball scholarship in hand, I started my Trevecca leadership journey as the first in my family to go to college. I'd end up choosing Trevecca again and again, for everything from education to employment. My undergrad experience with basketball and becoming a certified teacher was amazing. My first job back at Trevecca, working with a fantastic team in Financial Services, was wonderful. Then completing the trifecta by finishing Ed.D. program changed my life again. Now I have this incredible opportunity as 'Dr. B.' to lead doctoral students on the same life-changing journey I once traveled, and that's without a doubt one of my proudest accomplishments.
Through the years, I learned from some of the best educators, teammates, and leaders as I pursued my dream of becoming a teacher, coach, administrator and scholar. I found the most humble, generous and dedicated people here. They believed in me and showed me things about myself that I just could not see. Their examples altered the course of my life in a profound and meaningful way, and the support I received here made me believe I could do the impossible.
I always had a strong desire to teach and coach, but until I arrived on this campus, I didn't truly realize what I could do with that.
I think what sticks with me most is that the experience mattered. Was it positive? Did it change me? Can I apply what I learned? I'm asked these questions quite often, and my answer is always the same. Yes! I owe so much of my personal and professional success to this university, and I'm grateful that I can serve today's students by pouring into them with the same level of support, commitment and dedication that I received.