Graduate Profile: Trevecca leaves a lasting impression on senior Chris Elliott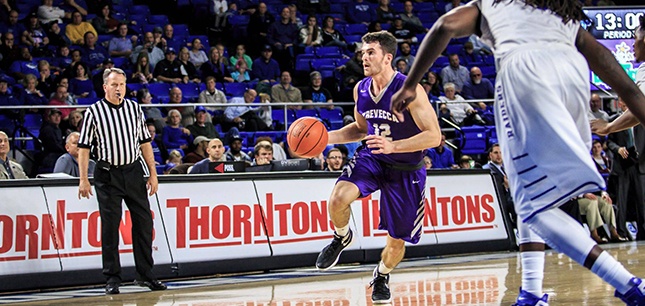 When Chris Elliott graduates next month with an exercise science degree and a concentration in athletic training, he'll leave a lasting mark on Trevecca.
The student athlete has been nominated for several awards and holds both school and conference records. Despite a recent injury, he continues to support his team and strive for success.
A member of the basketball team for all four years of his college career, Elliott has also competed with Trevecca's track and field team. He's the school and conference record holder in the triple jump and the school record holder for long jump and high jump. Elliot is also the record holder in basketball for the most games played in the G-MAC conference since Trevecca became a NCAA Division II school.
The athletics department has nominated Elliott for five awards this year: Comeback Athlete of the Year, Male Christian Athlete of the Year, Male Scholar Athlete of the Year, Off the Field Leadership Award, and the That's Us Award. The results will be announced at the TROJYs on April 25.
But Elliott's leadership extends further than the court or track. He's served as the basketball representative for Fellowship of Christian Athletes and is a leader for I Am Second.
Elliott is grateful for how the Trevecca community has supported him, especially when he was injured and unable to play.
"I don't think you can find that kind of personal care and intentionality from many other colleges."
"I was on the training table while the doctor was looking at me and President Boone walked across the court to see what the doctor was saying and to check to see how I was doing," Elliott said, recounting what happened after he tore his ACL in the first game of the G-MAC tournament in March. "I don't think you can find that kind of personal care and intentionality from many other colleges.
"My phone was full of texts and Facebook messages from students back home saying they were praying for me," Elliott continued. "Denise Boone took the time to message me on Facebook, telling me she was praying for me. Fellow students I hadn't ever talked to were coming up to me and asking how I was doing. It was just a humbling and overwhelming example of love and support."
He says he hopes to get back to full health soon so he can continue to play basketball. It just won't be Division II collegiate basketball.
"I am excited to get back to full health because I'll finally be able to play on the same basketball team as my brothers in church league, which will be fun," said Elliott.
After graduation, Elliott plans to earn his certification for personal training. He'll take part in doing athletic training internships during the summer and fall, before starting to work toward a master's degree in athletic training in 2017.
While it's clear that Elliott won't soon be forgotten on campus, he says his Trevecca experience has shaped him for the better.
"I have had an incredibly positive experience at Trevecca," he said. "I can honestly say I have grown more in my Christian faith these last four years at Trevecca than any other time in my life. My coaches and professors have done such a good job at helping me reach my goals and set me up for jobs in the future. It's easy to tell they have genuine hearts and want to see me succeed."