Finals Week: Best places to study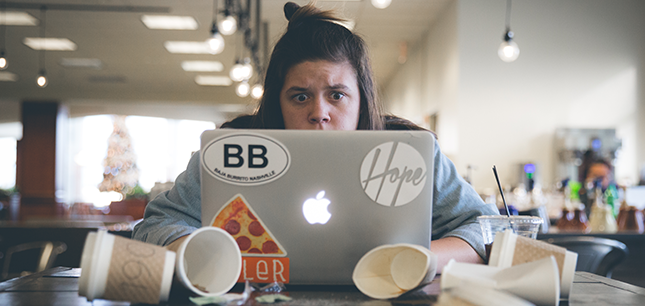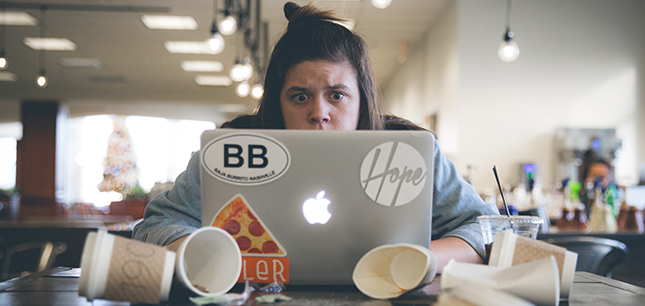 For Trevecca's traditional undergraduate students, finals week is just beginning. Whether you're a freshman finishing off your first year or a senior about to graduate, it's time to finish the semester strong. So, we asked senior film major Jacob Harrison to share a few tips for finding the best place to study, both on- and off-campus. Here's what he had to say:
I'm not a stranger to finals and needing to find a place where you can study without distractions. So, grab your textbooks, headphones, pen, notebook and anything else you need for effective studying. Here are five of my favorite places on Trevecca's campus and around Nashville.
Trevecca's Bud Robinson Building. Housing the original 1901 location and writing center, the Bud Robinson Building—sometimes called the CLCS—is my number one location for There are multiple areas for studying inside the building, a back porch with big windows to let in natural sunlight and even a computer lab upstairs away from any noise.
Waggoner Library. The group study rooms are a big part of why Waggoner Library is my second choice. It's easy to reserve a room at library.trevecca.edu and get one last group study session in before your accounting final the next day. There are multiple Mediascapes, computers and librarians to help you find the right resource without even leaving the main floor. And if you make your way to the back of the main floor or downstairs, you'll find an extra quiet work spaces where you will be able to focus on getting your work done.
Nashville Public Library. Located downtown, the main location of the Nashville Public Library is my third choice because it's so quiet. Get away from all the on-campus distractions and bask in the sheer joy of knowing that no one's going to interrupt you there. Plus, if you park in the library parking garage and get your ticket validated, the first 90 minutes of parking is free. You can also take the bus, free with your Trevecca ID.
Barista Parlor Germantown. This coffeeshop is high on my list because Barista Parlor's coffee is amazing and always has the exact amount of caffeine to give me the boost I need to finish that paper that I've been procrastinating The layout of the shop is also a huge plus, too. Huge windows let in a perfect amount of light, and the chairs are placed far away from each other that you don't have some stranger invading your space as you study.
Red Bicycle. They have crepes! That's all I have to say to convince you though, right? Not only do they have crepes, but they have a nice atmosphere and good coffee. Another plus, Red Bicycle Woodbine is close to campus, perfect for when you need to study off-campus but not that far.
Wherever you choose to study, know that Trevecca is cheering for you. You've got this, students!