Dave Matthews Band member Jeff Coffin and M'utet to appear at Trevecca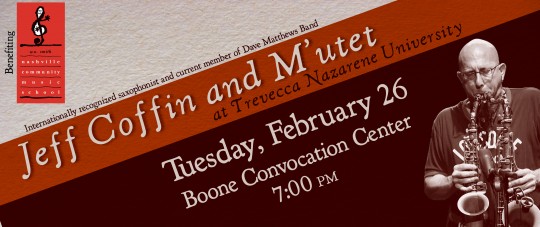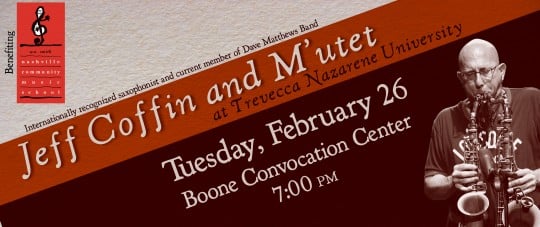 Internationally known saxophonist, bandleader, composer, and educator, Jeff Coffin and his band M'utet will perform at Trevecca on Tuesday, February 26 at 7 PM with Trevecca's Lab Band I and TNaz Jazz—Trevecca Jazz Ensemble. Coffin has won three Grammy Awards with Bela Fleck & the Flecktones and has been part of the Dave Matthews Band since 2008. The event will be in the convocation center of the Boone Business Building and is free and open to the public.
Prior to the Tuesday performance, Coffin and M'utet will present "Creativity in Music" on Monday, February 25 at 10 AM. Following that event, Trevecca music professor Matt Murdock will join Coffin and M'utet to present "The Early Years of Jazz/Rock Fusion." Both sessions will be held in the convocation center of the Boone Business Building on Trevecca's campus, and both are open to music educators, high school and college musicians, and the community.
Members of M'utet are as follows: Felix Pastorius, playing the electric bass; Bill Fanning, playing trumpet and space trumpet; Chris "the Pianimator" Walters, playing keys; and special guest Roy "Futureman" Wooten, playing drums.
The Tuesday night event is partnered with W.O. Smith Nashville Community Music School with donations going towards their music programs. The Monday sessions will be sponsored by Yamaha Corporation in conjunction with their world-wide 125th Anniversary.