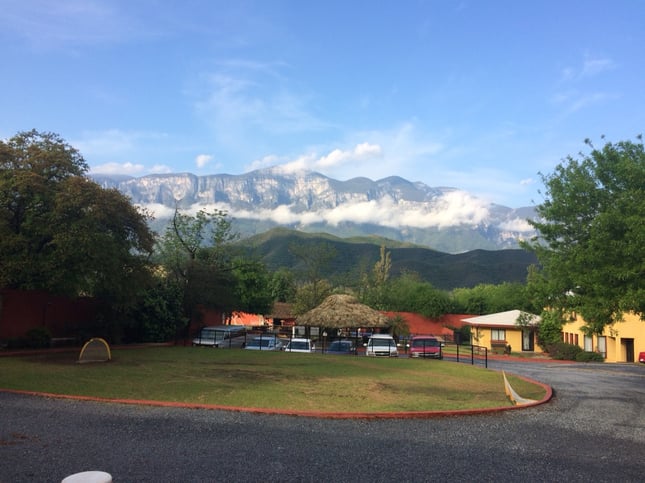 Good afternoon from Monterrey! It's been one incredible week here in Mexico. We've only been here since Saturday, but it feels like we've been here for much longer—probably because we are currently stranded in the Monterrey Airport waiting on a plane to get us to Atlanta.
This trip has been one I will definitely never forget!
Since my last update, our adventures here have only gotten better. On Tuesday, we stayed on campus at the main Back2Back site and worked on projects. A few of us were assigned to painting the Hope Program houses, which are where students in high school and college are able to live with foster families during their time in school. There aren't any public high schools here in Mexico, so if a family can't afford to send their child to a private high school, they normally don't go any further into their education. With the Hope Program, Back2Back pays to send them to high school and college, and gives them a safe place to live! How cool!
For most of the day, we were painting from the roofs of the houses. The view from up there was probably my favorite of the entire week. The mountains surrounded us on all sides, the breeze blew all day, and the sun was shining just right. It was breathtaking! We were able to get a lot done, and we had fun while doing it.
Later that evening, we had a Back2Back cookout with all the on-site staff and Hope Program families. The food was great, but the fellowship was even greater! I sat with a family who has two sons of their own and fosters two more boys who are in high school. The mom, Gige, runs the tienda (snack shack) at Back2Back. She quickly became one of my favorite people there, and it was hard to tell her goodbye. She loves serving at Back2Back and is so passionate about keeping her home a safe place for those boys.
Wednesday, we headed back to the Del Norte Children's home to work on more projects. I think we worked harder on Wednesday than any other day we were there. The biggest project at Del Norte was in the garden where a group of us dug a huge hole for new fresh soil to be put in. Hours of sweat and hard work later, the job was done, and we were proud of it!
Wednesday night was one of my favorites. After working at the Children's Home all day, the Back2Back staff took us to a local fast food restaurant called Pollo Loco. We were so excited to eat in a real Mexican restaurant! The food was delicious, and the chips and salsa bar was the coolest. While we were inside, a torrential downpour started outside, and we had to run through it to get back onto the bus. Let's just say it made for some hilarious memories.
Thursday finally arrived, our last day in Monterrey, and none of us are ready to leave yet. I woke up with a heavy heart, knowing that this will be the last day to see all the kids at Del Norte, especially my sweet buddy, Cristian. We arrive at the Children's Home around 11 a.m. and one of the Back2Back staff members takes us on a prayer walk throughout the home. This was an extremely emotional moment for all of us.
We walked throughout each room of the house, laying hands on each little bed. We walked to the front gate of the property, the first thing each child sees when they are dropped off at Del Norte, sometimes never to see their parents again. This is such a sacred place, and I find myself praying harder than I have in a long time. I pray that the Lord comforts each child who has to walk through those front doors, not knowing what's going to happen, and that He gives them the hope they so desperately need to get through this new stage in their lives. This image will be with me forever.
The end of the day came, we finished our final projects, and all the kids arrived home from school! Last night, we had a cookout with all the staff at Del Norte. Some of us played games with the kids, and some of us helped chop vegetables for our homemade guacamole and pico de gallo! Dinner was "carne asada," steak tacos with all the toppings! Let's just say, we ate until we couldn't eat anymore!

After a while, it was time to leave. All of us are dragging a little bit, mostly because we just can't make ourselves brave enough to say goodbye. I went over to Cristian and said "Adios, mi amigo," and he reached out for a hug. Little did I know, he was plotting an attack and right when I go in to hug him, he wiped his very sweaty face all over me. So gross, yet somehow, so ridiculously precious. I laughed it off and gave him a fist bump before making my way onto the bus.

As I watched Del Norte disappear as we drove off, I thanked God for giving me the opportunity to serve there and connect with those sweet kids. The memories we made there will be some that I never forget!

Thursday evening comes and goes. We bought our Mexican souvenirs in the Back2Back market, we packed up all our belongings and climbed in our bunkbeds for the last time. I'm feeling so thankful to be living this life, to have gotten to experience what I did, to have learned a new culture, seen a new country, all of it. The Lord is so faithful, not just in Nashville or America, but everywhere! This has been an adventure of a lifetime, and I am so blessed and humbled to have done this.

Until next time, te amo, Mexico.