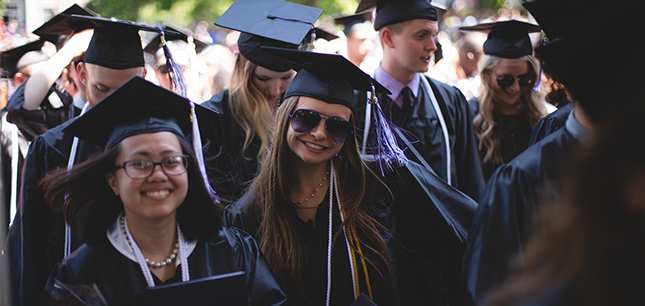 Hair flying, heels left behind, cap falling off and bare feet moving as fast as I could make them across the fresh cut grass of the Quad. This was me, last year, the morning of graduation.
Standing in the procession line of graduation, I realized I didn't have my name card, which listed my full name, degree and honors for the speaker to read as I crossed the stage. This name card I learned—while standing in a sea of graduating college seniors—was mandatory to be able to walk across the stage and receive my degree.
So kicking off my heels, I ran across the Quad, scanning the crowd for my mom, who had my graduation folder, including my name card. Finding her and retrieving my name card, I ran back across the Quad, dodging grandparents and photographers, hoping I didn't break an ankle, just in time to shove my feet back in my heels and follow my best friend from freshmen orientation under the bell tower and onward to graduation.
Graduation day is hectic and overwhelming, and for some reason that information is not in the folder they hand out with caps and gowns.
In addition to holding on to your name card, there's so much to think about on graduation day. You'll need to think about what to wear, how to wear your cap and gown, how much deodorant to wear (hint: it's a lot, you're going to be cooking under that gown), where to park, where to tell your family and friends to park, what time everything happens at, where the spot to line up is, where your friends are, a plan for after (you're going to be hungry), all the pictures you want – with friends, professors and family—the list goes on and on.
But there will come a moment, when your sitting in your cap and gown, sweating in the sun, listening to a speech, and you'll realize that the four years you've spent working hard, making friends and creating memories has reached its finish line.
You came to college to earn a degree. And now you've done that.
So as a senior who ran barefoot across the Quad, totally unprepared for graduation last year, I would say the thing you need to remember most, is that that moment—as you walk across the stage, shake Dr. Dan Boone's hand and accept your degree—is important and special.
You'll move from college student to college graduate in just a few moments.
Take it slow. Take it in.
The last few years you've focused, worked hard and learned a lot. You've reached goals, built lasting friendships and paved the way for a future you're now stepping into. Have fun on graduation day, celebrate everything you've done and remember all the times you thought this moment would never come. Maybe it came a lot quicker than you planned, but take the time to enjoy it.