Trevecca's Sport Management Program, Nashville Sounds Team Up to Offer Mutual Learning-Based Opportunities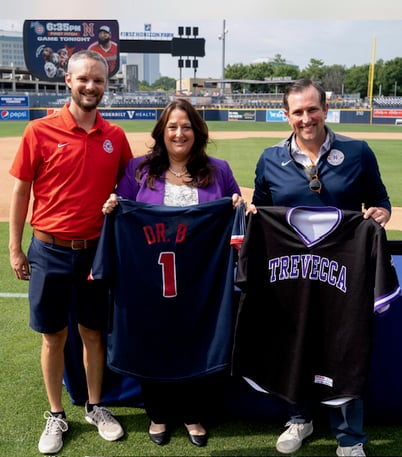 Trevecca Nazarene University has announced a learning-based partnership between the school's undergraduate sport management program and the Nashville Sounds Baseball Club.
Dr. Leigh Ann Danzey-Bussell, a professor of sport and entertainment management at Trevecca, coordinated with the Sounds' Taylor Fisher, vice president of ticket sales and service, and general manager and COO Adam English on an agreement that will benefit both employees of the Sounds and students at Trevecca.
Under the terms of the partnership, Trevecca sport management students will take part in a special topics class, co-taught by Danzey-Bussell and representatives from the Sounds' ticket office, that focuses on sales and ticketing, a common entry point for those hoping to enter the industry. As part of the class, a Sounds bootcamp will educate students on how the Sounds ticketing operation functions and provide hands-on experience in selling tickets.
Sounds employees with at least one year in the organization will be eligible for a scholarship to pursue higher education at Trevecca. These include two programs directed by Danzey-Bussell that are particularly applicable to the Sounds' line of business: the undergraduate sport management degree and a master's in sport and entertainment management.
"Trevecca has positioned itself in the professional sport arena in Nashville with this partnership. Students will be able to practice the critical skills that the industry requires," Danzey-Bussell said. "Any chance we get to have our students put into action the knowledge they've gained in the classroom is a win. As an applied major, these experiences allow our students to demonstrate their abilities, learn from professionals, and engage in career-enhancing activities."Trevecca's Bachelor of Science in sport management impacts the sports industry by graduating students who are innovative, engaged and professionally prepared. Graduates are distinguished by their critical thinking skills, practical experiences, preparation and servant leadership.