Trevecca Announces Dean's List for Spring 2023 Semester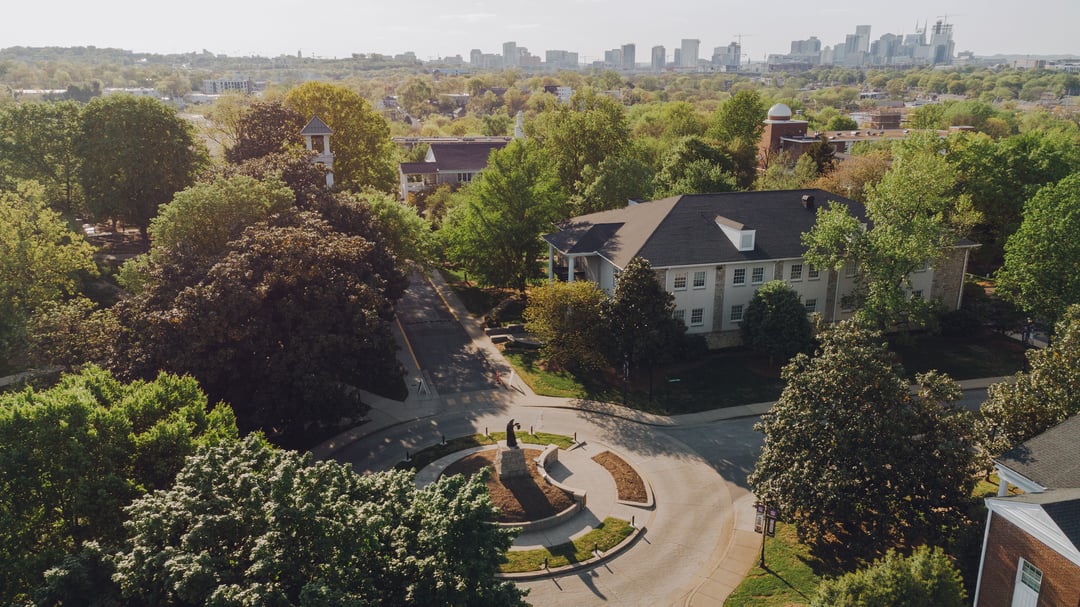 Trevecca Nazarene University has announced its dean's list honorees for the spring 2023 semester.
To be named to the dean's list, undergraduates must attain a semester grade point average of 3.50 or higher on a 4.00 grading scale. Traditional undergraduates must be enrolled full-time, while non-traditional undergraduates must have completed 12 or more hours during the academic period.
To share an individual student's accomplishment with a local newspaper, download the dean's list press release template, fill in the information specific to the student (replacing the bracketed placeholders), and then submit the completed document to the news outlet.
The following is a list of the undergraduate students named to the dean's list, grouped in traditional and nontraditional categories.
Traditional Undergraduate


| | |
| --- | --- |
| First Name | Last Name |
| Nathan Ray | Abana |
| Hamzah | Abo-Hashema |
| Amber | Adams |
| Carter | Adams |
| Kaylee | Adams |
| Tioluwanimofe | Adesanya |
| Amelia | Agee |
| Ariadne | Alatorre Siguenza |
| Mercidieu | Alexis |
| Abigail | Allen |
| Isaac | Almanza-Aguilera |
| Sofia | Alvarado |
| Stephanie | Alvarez Bonilla |
| Abigail | Ammons |
| Othniel | Amoussougbo |
| Lillian | Anderson |
| Meagan | Anderson |
| Jennifer | Andrade |
| Kendall | Andrews |
| Anna | Antonetti |
| Ashley | Applegate |
| Leah | Armstrong |
| Destiny | Arnold |
| Emily | Arnold |
| Andres | Arriaga Altamirano |
| Naomi | Assefa |
| Cassidy | Attig |
| Lara | Augustine |
| Valeria | Avila Sanchez |
| Natnael | Ayele |
| Mohammed | Azam |
| Grace | Baird |
| Dili | Banegas Pineda |
| Ricardo | Barahona Murillo |
| Meri | Barker |
| Samuel | Barrionuevo |
| Thomas | Barros |
| Emilie | Beckner |
| Brooke | Benson |
| Connor | Benson |
| Evan | Bess |
| Andrea | Betka |
| Sharoon | Bhatti |
| Patrick | Bielmeier |
| Ariana | Bilderback |
| Ethan | Blades |
| Jasmine | Blankenship |
| Allison | Blount |
| Louis | Boabeng |
| Barrett | Boese |
| James | Bolger |
| Savannah-Rose | Boner |
| Hannah | Borck |
| John | Bornstein |
| Kasey | Borski |
| Christian | Bowlin |
| Graham | Bransford |
| Kaylee | Breeding |
| Arielle | Brengle |
| Tyler | Briggs |
| Hanna | Brock |
| Kimberly | Brooks |
| Kathryn | Brooks |
| Faith | Brooks |
| Autumn | Brown |
| Renea | Bruce |
| Adam | Bucynski |
| Eleanor | Buffler |
| Kyleigh | Burgett |
| Lizbeth | Burgos |
| Lydia | Burton |
| Dawson | Bush |
| Rebecca | Bustillo |
| Milton | Cantarero |
| Darby | Cappillino |
| Bayleigh | Carmichel |
| Nathan | Carr |
| Keeley | Carter |
| Andres | Casilla |
| Brandom | Castaneda Castor |
| Cristian | Castro |
| Omar | Castro Lopez |
| Anna | Cawthorne |
| Sarah | Cawthorne |
| Weston | Cecil |
| Olivia | Chandler |
| Emma | Chandler |
| Kendall | Chapman |
| Corianna | Chauncy |
| Anna | Chew |
| Ashlynn | Christianson |
| Christopher | Clapp |
| Anna | Clark |
| Joshua | Clugston |
| Kennedy | Cobb |
| Kerri | Coen |
| Melissa | Colorado Origua |
| Katherine | Colwell |
| Ashley | Cook |
| Hannah | Cooper |
| Johnston | Corbin |
| Clarice | Cox |
| Kolby | Criddle |
| Kourtney | Crouch |
| Kaitlin | Crutchfield |
| Rachel | Dagley |
| Briley | Daniels |
| Douglas | Da Silva Moura |
| Walker | Davenport |
| Thomas | Davis |
| Chane | De Beer |
| Isabelly Cristhyne | De Brito |
| Adrianna | De la Garza |
| Jefferson | Delgado Pinto |
| Vincent | Demana |
| Nicole | Deppen |
| Kaitlyn | DeYoung |
| Abadeer | Dieef |
| Albair | Dieef |
| Noah | Diehl |
| Nicholas | Dikhtyar |
| Onyedikachi | Dimobi |
| Perla | Domingo Servin |
| Preston | Drebes |
| Magdalena | Dunai |
| Kathryn | Duncklee |
| Julia | Durham |
| Emily | Durr |
| Victoria | Enamorado Ortega |
| Jasmin | Enriquez Martinez |
| Miriam | Erickson |
| Adrian | Espinal Alvarado |
| Alejandra | Estrada Martinez |
| Denise Helena | Estrera |
| Andres | Fajardo |
| Bishoy | Fakhry |
| Joshua | Farrell |
| Zoha | Fatima |
| Kinley | Feger |
| Alexander | Fernandez |
| Kenadie | Fernung |
| Jacob | Field |
| Anna | Fitzgerald |
| Cassidy | Fleenor |
| Mariah | Flores |
| Lizbeth | Flores Troche |
| Megan | Freeman |
| Bethany | Frigo |
| Mackenzie | Froelich |
| Christian | Fuller |
| Sydney | Gales |
| Diego | Galvan |
| David | Gamez Fuentes |
| Taegen | Gann |
| Valerie | Garcia |
| Juan | Garcia-Carmona |
| Joshua | Gee |
| Tyler | Gephart |
| Allison | Gibson |
| Emily | Gibson |
| Catherine | Gleason |
| Olivia | Gober |
| Merna | Gobrael |
| Josh | Goings |
| Arantxa | Goncalves |
| Sabrina | Goodbread |
| Danielle | Gorre |
| Faith | Graham |
| Jenna | Gray |
| Jacey | Gray |
| Grayson | Greenwood |
| Joshua | Griffin |
| Marlon | Grossmann |
| Sara | Gruber |
| Dylan | Guardo |
| Amber | Guilfoil |
| Lena | Gurley |
| Skias | Hainline |
| Marissa | Hamilton |
| Alexander | Hamm |
| Barrett | Hampton |
| Fuad | Handal Canahuati |
| Merna | Hanna |
| Eden | Harden |
| Bethany | Hathcock |
| Robert | Hatter |
| Sara | Hauter |
| Kelsey | Havican |
| Jocelyn | Headrick |
| Sabrina | Hedges |
| Brooks | Helton |
| Edgardo | Hernandez |
| Maria | Hernandez Solano |
| Meredith | Herndon |
| Joshua | Herrera |
| Nathalie | Herrera Ramos |
| Jessica | Higa |
| Caleb | Hobbs |
| Matthew | Hock |
| Amethyst | Hodgson |
| Sierra | Hodgson |
| Blake | Hofen |
| Maitlin | Hogan |
| Maitlin | Hogan |
| Carter | Holman |
| Abigail | Houchin |
| Claire | Hubbard |
| Caleb | Huddleston |
| Juliana | Hunt |
| Jade | Hunter |
| Robin | Hutton |
| Leanna | Ilias |
| Alexander | Ireland |
| Heidi | Jackson |
| Makena | Jackson |
| Moisés | Jaimes Garcia |
| Matthew | Jeffe |
| Caleb | Jenkinson |
| Shelby | Jenkinson |
| Giselle | Jerezano |
| Edward | Jimenez-Arias |
| Alayna | Johnson |
| Nevaeh | Johnson |
| Katelyn | Johnson |
| Ava | Jones |
| Makenya | Jordan |
| Danyel | Joy |
| Andrew | Kaney |
| Isaac | Keffer |
| Dylan | Kelly |
| Katelyn | Keogh |
| Sarah | Kinderdine |
| Teresa | Kingsmill |
| Gracie | Kirby |
| Hannah | Kleppinger |
| Kylie | Knight |
| Johnathan | Knotts |
| Morgan | Krasinski |
| Cassia | Labeb |
| Jordan | Lacks |
| Samantha | Lagesse |
| Chloe | Lahmon |
| Mercedes | Lapanne |
| Meaghan | Larkins |
| Thomas | Larsen |
| Jamie | Lawless |
| Isaac | Leavy |
| David | Lehning |
| Ana | Licona |
| Koi | Lindstrom |
| Taylor | Loftus |
| Justin | Loftus |
| Paige | Long |
| Alexa | Long |
| Alan | Lopez |
| Sara | Lopez Cruz |
| Cristiam | Lopez Melendez |
| Jonathan | Lopez Rivera |
| Michelle | Loria Alvarado |
| Connor | Lundy |
| Fabian | Macho |
| Adriana | Macias |
| Cara | Maguire |
| Brandon | Mancio |
| Caleb | Marks |
| Melissa | Marquez |
| Melody | Marse |
| Connor | Martin |
| Irving | Martinez Blanco |
| Victor | Martinez Castro |
| Hunter | Mast |
| Bethany | Maynard |
| Kyla | Mays |
| Gisselly | Mazariegos Lopez |
| Shekinah | Mbepa |
| Zachary | McClelland |
| Kendyl | McCoy |
| Mikayla | McCoy |
| Emilee | McDonald |
| Kurtis | McDonald |
| Brooks | McDonnough |
| Bailee | McEwen |
| Catherine | McLachlan |
| DeRon | Medley |
| Daniel | Mendez Gonzalez |
| Micah | Mercer |
| Elizabeth | Merida Leal |
| Megan | Merritt |
| Olivia | Messina |
| Lily | Mettler |
| Taylor | Milam |
| Lauren | Miller |
| Claudia | Miller |
| Brayant | Miranda |
| Ricardo | Molina-Matute |
| Jackson | Moon |
| Shelby | Moore |
| William | Moredock |
| Mary | Moroz |
| Sydney | Morrison |
| William | Moser |
| Jake | Mulder |
| Brad | Mullins |
| Raquel | Murillo |
| Benita | Muskollari |
| Aden | Napier |
| Valerie | Neal |
| Ava | Neal |
| Ariana | Negreira Puerto |
| Naomi | Nekrasov |
| Riley | Neville |
| Adam | Newman |
| Kellythuy | Nguyen |
| Sarah | Nicholson |
| Kendall | Nolen |
| Samuel | Norman |
| Natalie | Noyes |
| Nathaniel | Noyes |
| Claudia | Nunez Oviedo |
| Jonathan | Obi |
| Yuritzi | Ocampo |
| Kamiko | Oliveros |
| Ella | O'Malley |
| Jose | Orellana Espana |
| Maria | Ortiz-Andrade |
| Emmanuella | Owolabi |
| Mariam | Padilla Sunseri |
| Evelyn | Palmliden |
| Benjamin | Paradis |
| Daniel | Parker |
| Mariana | Pascua |
| Thea | Patterson |
| Reese | Payne |
| Holden | Payseur |
| Ruth | Penney |
| Roselin | Perea Hernandez |
| Isabella | Perigo |
| DeYonna | Perkins |
| Thomas | Perko |
| Cadence | Perry |
| Kendall | Petersen |
| Caleb | Philip |
| Josiah | Philip |
| Lacy | Phillips |
| Braulio | Pimentel |
| Wendy | Pineda Diaz |
| Jessica | Pointer |
| Zachary | Polk |
| Grace | Poole |
| Jetnor | Potka |
| Kelly | Poyo |
| Ryan | Prather |
| Emylee | Preston |
| Grace | Pulliam |
| Luke | Purcell |
| Gracie | Purkey |
| Ivan | Quezada Segura |
| Itzel | Quiroz |
| Nicol | Radziszewski |
| Samantha | Raley |
| Nancy | Ramirez |
| Jarrod | Ramirez |
| Ivan | Ramirez Castro |
| Keegan | Reckinger |
| Madison | Reed |
| Olivia | Reich |
| Aaron | Reid |
| Isaac | Reif |
| Nigel Keith | Revaula |
| Kaylah | Richey |
| Taylor | Rickey |
| Elizabeth | Riley |
| Yudieth | Rios |
| Abigail | Risher |
| Makayla | Ritterbeck |
| Jamie | Rivera Barrera |
| Miriam | Rixon |
| Samuel | Robertson |
| Adonia | Rodriguez Madrid |
| Leslie | Rodriguez Martinez |
| Juana | Rodriguez Trujillo |
| Tyler | Roy |
| Tracy | Roy |
| Brice | Rupert |
| Turner | Russell |
| Boone | Russell |
| Katie | Russell |
| Roland | Ryan |
| Haley | Ryan |
| Kirolos | Saleh |
| Seth | Salerno |
| Laura | Sandu |
| Starlynn | Santos |
| Daira | Santos |
| Grace | Santos Espinoza |
| Rafael | Sanzio Del Cid |
| Jakilyn | Schmahl |
| Karleen | Schmutz |
| Kyleigh | Schrock |
| Corina | Settles |
| Frank | Sharpe |
| Chelsea | Shelton |
| Ethan | Sherrer |
| Innocent | Showalter |
| Sayem | Siddiki |
| Jacob | Sieber |
| Benjamin | Sieber |
| Evan | Simons |
| Erica | Sims |
| Benjamin | Singer |
| Julia | Singleton |
| Luswepo | Sinyinza |
| Karley | Skinner |
| Emma | Slimmer |
| Cameron | Smith |
| Julia | Smith |
| Maya | Smith |
| Jonah | Smithson |
| Marola | Sobhi |
| Daniel | Sorto Garzona |
| Rodrigo | Sosa |
| Kaylee | Spencer |
| Parker | Spencer |
| Carly | Sperlich |
| Michael | Spraker |
| Jacob | Stacer |
| Riley | Stetler |
| Kaleel | Stewart |
| Fioana | Stirbu |
| Candace | Stockstill |
| CarolAnn | Stockton |
| Allison | Storch |
| Christian | Strahley |
| Sydney | Strayer |
| Zackery | Strickland |
| Elijah | Stultz |
| Dong | Sut |
| Kobe | Sweatt |
| Jodie | Taylor |
| Abigail | Taylor |
| Ryman | Taylor |
| Tsion | Tesfaye |
| Jade | Thornton |
| Malone | Thrift |
| Ansley | Tice |
| Carolyn | Tidwell |
| Warisa | Tipvarakankoon |
| Emma | Titus |
| Natalie | Torbett |
| Nathan | Tramel |
| Martin | Trammell |
| Alyssa | Triner |
| Madison | Triplett |
| Nathaniel | Tschannen |
| Alie | Tunks |
| Abby | Turner |
| Julianne | Twining |
| Diego | Urquiola-Diaz |
| Maria | Urquiola-Diaz |
| Suedy | Valeriano Hernandez |
| Cristina | Valladares Moncada |
| Eliana | Vanegas Serrano |
| Gracia | Vasquez Rodriguez |
| Carlos | Velasquez Oliva |
| Maria | Velez Chavez |
| Wilson | Vrieze |
| MacKenzie | Vrieze |
| Megan | Walker |
| Angela | Wallace |
| Joseph | Waring |
| Brennan | Watson |
| Zoe | Weatherspoon |
| Timothy | Weeks |
| Elizabeth | Wells |
| Logan | West |
| Olivia | Whelan |
| Taylor | White |
| Miciah | White |
| Joshua | Whited |
| Kaitlynn | Whiting |
| Justice | Whitt |
| Kimberly | Wier |
| Chandler | Wike |
| Faith | Wilken |
| Lili | Wilken |
| Peyton | Wilkinson |
| Aiden | Williams |
| Eleanor | Willson |
| Alexa | Wilson |
| Jay | Wilson |
| Kolton | Winfree |
| Ellie | Wixom |
| Courtney | Wojcik |
| Baylee | Woody |
| Abby | Wright |
| Ian | Wright |
| Abigail | Wright |
| Jayce | Yarbrough |
| Alexa | Yordy |
| Amira | Youssef |
| Antonio | Zapata |
| Micah | Zimmerman |
| Ava | Zirlott |
| Gustavo | Zuniga |
Nontraditional


| | |
| --- | --- |
| First Name | Last Name |
| Toneshia | Addison |
| Shaun | Ames |
| Greg | Anderson |
| Michael | Anderson |
| Dazarius | Andrews |
| Jeffrey | Andrews |
| Qena | Armstrong |
| Bower | Arnold |
| Andrea | Avila Rivera |
| Amber | Bain |
| Alleigh | Bankes |
| Maxine | Baxter |
| Megan | Beauchemin |
| Christian | Bell |
| Holly | Bess |
| Kristin | Blumenstein |
| Ryan | Booker |
| Connie | Borth |
| Courtney | Bradley |
| Sarah | Bratcher |
| Denice | Broadnax Lytle |
| Denice | Broadnax Lytle |
| Crissianna | Brooks |
| Geron | Brown |
| Jessie | Brown |
| Jessica | Brown |
| Brittney | Burchwell |
| Karla | Camorlinga |
| Marselita | Campos |
| Abigail | Canning |
| Katelyn | Carben |
| Sandra | Carmon |
| Kassidy | Cawthorn |
| Abby | Chapman |
| Kalan | Charlton |
| Jessica | Clutts |
| Tosha | Colas |
| Robert | Cole |
| Robert | Coriston |
| Kay | Crouch |
| Brooklyn | Dault |
| Megan | Davis |
| Traci | Dean |
| Joshua | Dewberry |
| Lavonia | Dickerson |
| Daniel | Dominguez |
| Daniel | Dotson |
| Haley | Douglas |
| Matthew | Dyer |
| Teresa | Eberle |
| Corinne | Elder |
| Laura | Ezell |
| Lorena | Figueroa |
| Nelly | Flores |
| April | Folmar |
| Jessica | Ford |
| Olivia | Foster |
| Laura | Fox |
| Brooklyn | Fox |
| Tiffany | Frazier |
| Isaac | Freeman |
| Joseph | Fuson |
| Micah | Garrison |
| Larry | Gipson |
| Elizabeth | Goad |
| Joslin | Gooden |
| Lisa | Hale |
| Jessica | Hand |
| Tonya | Haynes |
| Debbie | Hedge |
| Denise | Hemmings |
| Suzanne | Heneghan |
| Josie | Hickman |
| Kristopher | Jackson |
| Alainah | Jewell |
| Destiny | Johnson |
| Tristan | Johnson |
| Robert | Johnston |
| Lindsay | Jones |
| Austin | Jones |
| Ashley | Kelly |
| Bonita | Kelsey |
| Kelly | Kennedy |
| Courtni | Kimble |
| Kristina | Lands |
| Shonda | Leeper |
| Chasity | Lentz |
| George | Lester |
| Delia | Lewis |
| Christina | Little |
| Karalece | Lowe |
| Michelle | Lyles |
| Sarah | Mankin |
| Matthew | Marr |
| Hannah | Martin |
| Nedell | Mascolino Dewey |
| Darryl | Massey |
| Kayla | McBee |
| Marisa | McCluer |
| Tristan | McKinnie |
| Wayne | Meads |
| James | Meeks |
| Miguel | Mendoza Molina |
| Tristen | Meza |
| Tristen | Meza |
| Ashley | Michael |
| Fox | Miller |
| Keri | Moore |
| Sarah | Moss |
| Matthew | Mrowiec |
| Joel | Newman |
| Tyrone | Newson |
| Thuy | Nguyen |
| Richard | Norman |
| Rodrick | Okoth |
| Charles | Parish |
| Eunice | Parker |
| James | Patten |
| Jonathan | Phillips |
| Pamela | Polston |
| Olivia | Powell |
| Perry | Price |
| Kayla | Ramos |
| Kevin | Rape |
| Sydnie | Rathert |
| Philip | Ricaud |
| Larry | Roberts |
| Brittnye | Roberts |
| Brittnye | Roberts |
| Mark | Rowley |
| Gwyn | Russell |
| Andrea | Shea |
| Daniel | Shipley Jr |
| Megan | Smith |
| Megan | Smith |
| Shaniece | Smith |
| Marissa | Stanley |
| Kendra | Steele |
| Stephanie | Stimmell |
| Sarah | Swalls |
| Ladrecka | Thompson |
| Christopher | Turner |
| Morgan | Vanmeter |
| Dorothy | Varnadore |
| Ruby | Wall |
| Katelyn | Waters |
| Dale | Watt |
| William | Webb |
| Mechelle | Webster |
| Steven | Weiler |
| Andrea | Wiggins |
| Andrica | Williams |
| Duke | Wilson |
| Karis | Winders |
| Jamie | Womack |
| Israel | Yanes |
| Katherine | Zaldana Quijano |