Hiatt Selected for Barnabas Award from Christian Business Faculty Association
| Awards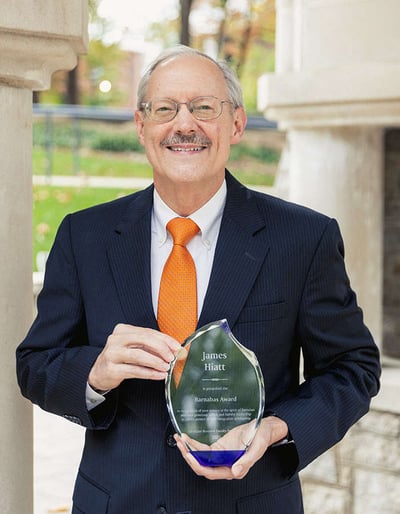 Dr. Jim Hiatt, dean of the Skinner School of Business at Trevecca Nazarene University, was recently named the recipient of the Barnabas Award by the Christian Business Faculty Association (CBFA). The CBFA honored Hiatt with the award at their annual conference hosted in Nashville by Lipscomb University September 30 – October 2.
Hiatt, in his 39th year of full-time service at Trevecca, has held a variety of positions including professor of business, chair of the Department of Business Administration and associate provost for academic and financial affairs. He has been involved with the CBFA for 25 years and attended his first annual conference in 1996. Under Hiatt's leadership, Trevecca hosted the CBFA Annual Conference in 1997 and 2014. He has also served as an advisor to the CBFA board of directors, assisting them with legal and management advice.
Hiatt noted that it was a great honor to receive this award, especially considering the outstanding recipients of the past. "Those award winners have not only been strong supporters and encouragers of the organization, but of me personally as well," he said. "It is truly humbling to be mentioned with this extraordinary group of Christian business educators."
A business graduate of Trevecca, Hiatt holds a law degree from the University of Tennessee and an MBA in finance from Middle Tennessee State University. Prior to his work at Trevecca, he practiced law in Nashville for four years.
Hiatt has had extensive involvement with Middle Tennessee charitable and nonprofit organizations over the years.  He has served on the board and as treasurer for both East Nashville Cooperative Ministries and Christian Counseling Services.  He recently served a two-year term as board chair of the Nashville Rescue Mission.  He is currently chair of the finance committee at Grace Church of the Nazarene and serves on the board. He is a member of the advisory board for the Center for Emerging Technologies and recently served a year on the board of the Nashville Health Care Council. He is also affiliated with The Tennessee American Chinese Chamber of Commerce, Living Sent Ministries, and The Tennessee Immigrant and Minority Business Group.
According to the CBFA's website, the Barnabas Award recognizes individuals who exhibit qualities inspired by the life of Jesus' disciple, Barnabas, such as encouragement, servant-leadership, dedication and innovation.
"Barnabas, a disciple of Jesus Christ in the first century, exhibited many qualities necessary for keeping Christian organizations strong and vibrant," the CBFA website reads. "This award recognizes individuals who have served CBFA by being a Barnabas, exhibiting similar qualities, serving and participating joyfully and enthusiastically and contributing to CBFA's effectiveness and esprit de corps."
---
Media Contact: Brian Bennett