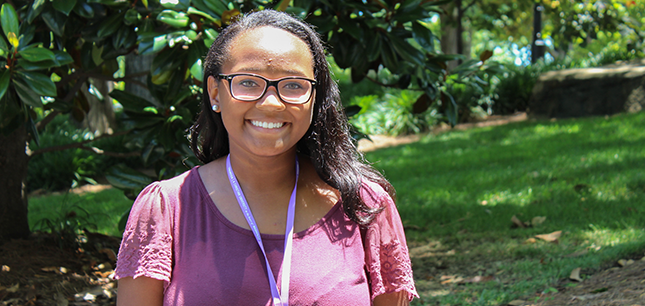 Sharik Atkinson was surprised at her own decision to attend Trevecca this fall. Back in April, Atkinson was completely committed to going to Pennsylvania State University. The Orlando, Fla., native had already been accepted to PSU and paid her deposit for enrollment.

"My societal mind took me to only focusing on huge colleges with sororities and record-breaking football games," she said.

In early April, Atkinson attended TNT with her church, Center Pointe Community Church. This was her first time stepping foot on Trevecca's campus. It was then, that she began to change her mind about where to go to college.

"If you would've asked me about Trevecca any time before then, I would've said 'no way,'" said Atkinson.

Atkinson says that her first visit to campus allowed her to fall in love with the school.

"I thought a small campus wasn't for me but it turned out to be the complete opposite. It had the 'home' feeling that I was missing at PSU," Atkinson said. "Additionally, God showed me various signs throughout the few days we were there that proved that's where He want[ed] me to be."

Atkinson competed in vocal solo at TNT. After her performance, Randy Kinder, director of new student financial aid, asked to meet with her. At the meeting, he gave her confirmation. Kinder told Sharik that when he heard her sing, he felt God asking him to reach out to her.

"Also, another one of the admissions counselors wanted to grab lunch with me, and we just sat and talked and laughed," Atkinson said. "It was in those moments that I felt the warmth and the tug to go into the unknown that landed me at a place like Trevecca."

When she got home from TNT, Atkinson applied to Trevecca. She is majoring in media arts and studies (TV/film production concentration) with a minor in worship arts. Atkinson says that her ultimate career goal is to be a worship leader with the ability to use digital media to draw people to Christ.

"The worship leader has the job of leading the congregation into a feeling of reverence and ultimately teaching the art of worship through demonstration," said Atkinson.

Atkinson says that she looks forward to two major things at Trevecca: the ways God will work in her life, and the ways that God will work through her.