For Rebekah Stanley (second from the left), a Trevecca music business major who will graduate in May, her goal to improve the world through music has only just begun.
After a visit to Trevecca, Rebekah said she "felt like this was the place" she was supposed to go to college, almost as soon as she stepped onto the campus.
"I never doubted my choice to come here, and being right in Music City definitely helped that cause," Stanley said.
Even during a short conversation with Rebekah, it's clear that she loves Trevecca.
"I love the size of the community," she said. "It's a small enough campus and student body that I feel at home here. I don't feel like I ever get lost in the crowd.
"When I walk around campus, I always see somebody that I know, and that's something I might not have if I had gone to a bigger school. The majority of the professors that I've had care about me as a person, and don't just see me as another name on their role sheet. Specifically, my advisor, Dean Diehl, has offered great career advice throughout my time at Trevecca and has clearly shown a desire to see me and the rest of my peers succeed in whatever we end up doing."
As she nears graduation—now just a month away—Stanley has begun to reflect on her Trevecca experience and the things she's had the opportunity to experience while a student.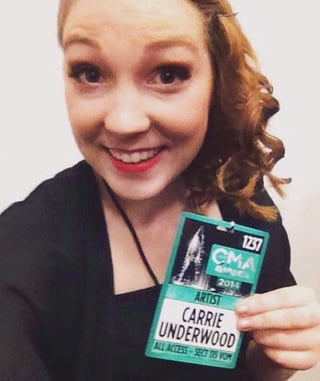 "As a member of the gospel choir my freshman year, I was afforded the chance to sing in a choir behind Carrie Underwood at the CMA Awards on live TV," Stanley said. "That is something that I will never ever forget, and it's something that I'll tell my kids one day."
Stanley says her college experience has been about more than learning about her chosen major, music business. Over the years, she learned a lot about herself, too.
"I learned that I'm a bit less creative than I'd like to be, but that's OK!" Stanley said. "I have a business/administrative kind of brain, and wanting to go into the music industry, I thought that was something that would not be as valuable. But through my classes and internships, I realized that I still have an important place in the music industry. God has gifted me in unique ways, so that I can serve the creatives in the music industry and enable them to use their gifts and talents at their full potential."
After graduation, Stanley plans to stay in Nashville. She currently works at Capitol Christian Music Group as the coordinator of A&R Administration, and says she owes that opportunity to Trevecca.
"Trevecca has given me so many great opportunities to get hands-on experience in the music industry," Stanley said. "I probably wouldn't have gotten this great job without that experience and the connections I made."
As far as the future, Stanley hopes she and her husband are still living in Nashville in 10 years, and the couple hopes to adopt children. She's also hopeful that she'll continue to grow her career at Capitol CMG.
"Music has a way of bringing people together like nothing else can," Stanley said. "I want to be a small part of making that unity happen for as long as I possibly can."