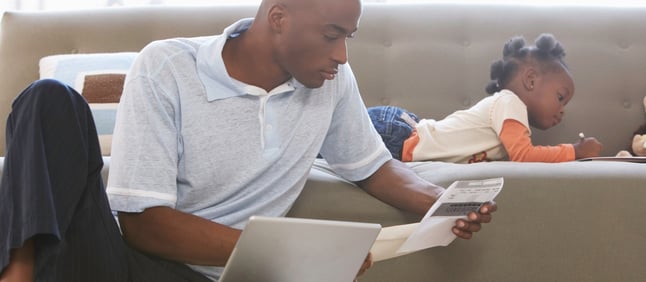 Balancing work, family, and even a healthy spiritual life is difficult for adult and graduate students. We've been asking current students how they get their work done in the midst of their busy lives in order to encourage you when you have a full load.
Michelle Walker-Wade is working on a master's degree in organizational leadership at Trevecca and takes classes online from her home in California. With an undergraduate degree in liberal studies, Walker-Wade currently works in adult career education, where for the past 16 years she has helped low-skilled and long-term unemployed adults gain skills for employment in new career pathways. She is also an ordained minister and pastored a church with her husband for five years. They are both now on sabbatical to devote time to caring for his mother with Alzheimer's while serving as associate leaders in another local ministry. When looking for a program for graduate study, Trevecca stood out to Walker-Wade because if its flexibility, small size, and online class offerings.
"I'm glad I found the school and the school found me," she says. Walker-Wade is scheduled to graduate in August 2017 and is considering pursuing her Ph.D. at Trevecca.
We asked her to share a few pieces of advice for current students trying to juggle busy schedules and maintain peace of mind. Here's what she had to say:
Turn in assignments one day early.
For Walker-Wade, every scheduled due date is considered the day before she should turn something in.
Carry your work with you.
"I always have one of my books with me," Walker-Wade says. Whether it's on a Kindle, a book, a smart phone, or an iPad, Walker-Wade suggests that you carry your work with you. If you're taking classes online, she also suggests logging in periodically throughout the day to check for updates. "Grab every moment that you can," she says. "If it's five minutes, get five minutes of reading in."
Be creative.
"Be creative in how you get the work done," she suggests. "Allow yourself…not to make yourself believe you have to have the ability to set aside three hour chunks of time." For her, this means pulling into a Panera or Starbucks when there's traffic to get a few moments of reading in. For you, it might mean fitting in some reading when the kids are napping. She goes on to say: "With the class work, as much as possible, apply it to what you're doing at work." She suggests that you ask, How does this question or this assignment apply to something I'm going at work right now?
Leave space for God and others.
Finding time to pray and grow spiritually takes intentionality. Walker-Wade tries to find time to pray every morning. "I kind of fit it in everywhere," she says. "When I'm driving, I'm usually listening to some sort of teaching. A lot of the times I do my homework with my worship music playing."

She also finds time for her husband and church family. "My husband and I usually have dinner together on Thursday and/or Friday evenings. We're together on Sundays and are also caregivers to my mother-in-law on that day as well…Afterwards, I retreat to my computer to finish up schoolwork." She also said she is usually one of the last people to leave her church on Sundays, trying to talk to as many people as possible. She also keeps up with her friends on Facebook, and on Thursdays she has prayer calls with fifteen other ministry leaders.

"In terms of schedule, if I can do it, anyone can do it." Walker-Wade is a strong student with a busy schedule, but she has found that you can always make time for the things that matter. Every day has unscheduled time that could be set aside for study or prayer if one is diligent about finding those times.

The key, as Walker-Wade says, is to be creative.