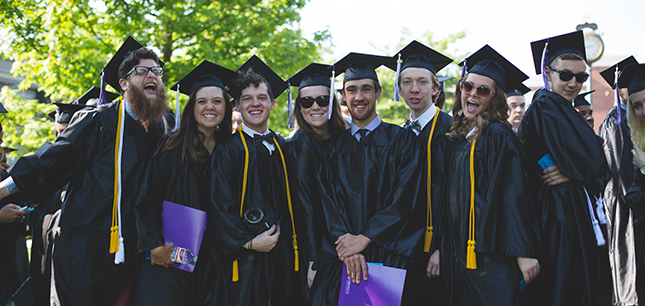 The year is quickly coming to a close, and graduation is just around the corner. Are you having trouble finding a gift for that special graduate in your life? Don't worry! Here's a list of five things graduates really want.
1. Money to get post-graduation life started.
Money is one of the best gifts you can give because it can be used for so many things. The graduate can use the money for food or clothes, much-needed household items or even a movie or dinner out as a way to relax after devoting so much time and energy to earning a degree. If you don't feel like you know the person particularly well, money is a safe choice because he or she can choose how best to use it.
2. Gifts the grads can choose themselves.
Gifts cards are nice because you get to be a little bit more specific than cash, but graduates still get to have a choice, too. You could get them a card to Walmart, Target, or another store that you know they like. You might also consider gift cards for favorite restaurants, music streaming sites or even Amazon. Because recent grads may also be looking to upgrade their closet to include more business professional options, you may also consider gift cards for clothing stores or brands you know they like.
3. Gifts that help grads get where they're going.
Transportation is also a really important part of every graduate's life. They need transportation to work, interviews and so on. If you live in a big city, public transportation cards are helpful and will help the new graduate save a little money. If commuting is part of the graduate's future, gas cards can be a life saver. If you want to take this suggestion a little less literally, consider gifts that will help the graduate grow professionally in their chosen field—from from electronic devices and expensive computer programs to laptop cases and industry-specific books. Luggage can also be a great gift for someone stepping out into the future.
4. Something the graduates would never buy for themselves.
There's probably something the graduate really wants, but would never buy for himself or herself. It might be a digital camera, an expensive household gadget or a gym membership. Maybe it's not an item, but an experience, like a short trip, a spa day or tickets to a sports event or concert. Pay attention to the things the graduate likes and expresses interest in, but rarely buys for him- or herself. Then surprise the graduate with a gift he or she will really enjoy!
5. Gifts to spruce up the home or office.
There's a good chance students graduating with their bachelor's degree may need some much-needed necessities—like decor, small appliances or coffeemakers—to make a post-college apartment feel more like home. Grads who are completing their master's or doctoral degrees may not need home necessities, but a heartfelt gift that the graduate can keep in his or her home or office as a faithful reminder of your friendship will always be appreciated.
So skip the inspirational graduation books and Class of 2017 memorabilia this year. Look for meaningful items that commemorate your friendship. Seek out useful gifts that will make life a little easier post-graduation or that gift or experience your friend has been longing for but refusing to by until his or her degree was complete. Whatever gift you decide on, don't forget to simply celebrate this milestone achievement with the graduate!