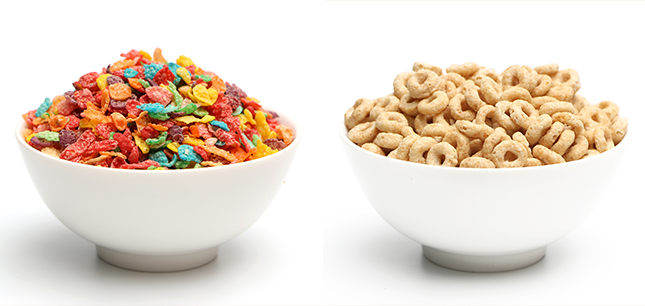 It may be spring break, but we're still celebrating National Cereal Day at Trevecca. In honor of the illustrious holiday, we're offering a few of our favorite cereal combinations to liven up your breakfast—or lunch, snack, dessert or dinner on those nights when you're just not in love with the menu.
1. Golden Grahams with Cinnamon Toast Crunch.
The similar shapes make for a nice uniform bowl of cereal, plus who can pass up cinnamony goodness with crunchy graham cracker bits? It's basically a cereal relationship that's meant to be.
2. Cap'n Crunch and Fruity Pebbles.
Mix one part Cap'n Crunch with one part Fruity Pebbles and add a little milk. It's the perfect mix of delightful. Plus, Fruity Pebbles counts as fruit, right?
3. Honey Nut Cheerios plus Frosted Flakes.
Maybe you want to make healthier choices but still need a little sweetness. Try mixing a bowl of Cheerios with just a touch of Frosted Flakes. You won't regret it. It's adulting without total commitment.
4. Lucky Charms + Cheerios + Cinnamon Toast Crunch.
Just try it. You won't regret it; we promise!
5. Peanut Butter Cap'n Crunch with Cocoa Puffs.
Mix half a bowl of the Cap'n Crunch with some Cocoa Puffs. It's like a peanut butter cup in a bowl. Have it for breakfast AND dessert.
We'd love to hear about your favorite cereal combinations. Share your recipes in the comments.