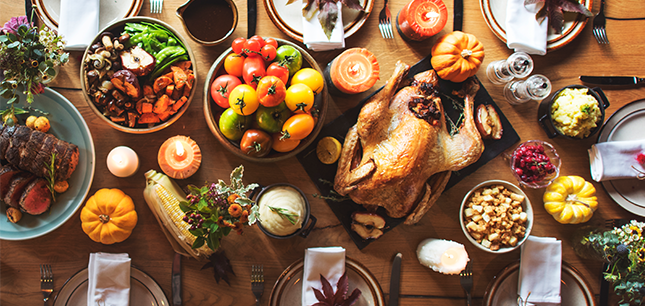 Thanksgiving break is here! For students working full time, this short break meant for rest and family can often feel like nothing more than a few extra days to catch up on homework. Assignments are still weighing on your shoulders to the point that you're considering how you might make a business model around your grandma's homemade pies, or you're contemplating the psychological factors that impacted your great aunt's need to be in control of the kitchen, or maybe you're beginning to see the theological symbolism manifested in the inedibility of raw cookie dough.

Don't worry. If you're studying what you love, then it will become a big part of your everyday life. However, Thanksgiving should be a time to rest, so if you haven't been given permission to do that, or if you're battling with yourself over whether or not it is the most efficient thing to do, then here is your permission.

It's OK to rest. Catch up on sleep. Make cookies with your children or you sister-in-law or best friend. This is the time to build or maintain family traditions that will strengthen relationships and remind you of the many blessings in your life. If you must, schedule some time to yourself, grab a cup of coffee, and work your way down your to-do-list without feeling guilty about it. You have to do what you have to do. If you have to brave the mall to snatch the latest Disney character doll for your daughter or niece, then do it with a smile.

Because the holidays are only stressful if we're in a hurry or seeking perfection rather than joy.

You may spend your entire holiday cooped up indoors sniffling with a cold, but find the coziness, find the warmth of a fire or hand to hold or a warm mug of hot chocolate. Find joy in making others smile, in spending hours baking something that doesn't last a day in the hands of your family, or in stringing popcorn for the Christmas tree. That's what's so special about the holidays--that reminder that peace and joy are a gift we can receive whether we are cuddled up watching Christmas movies, slaving away over a paper, or driving through traffic to the mall.

Our wish for you is that you take a moment to receive that gift, to remember all the things you are thankful for, and to have a wonderful Thanksgiving break.