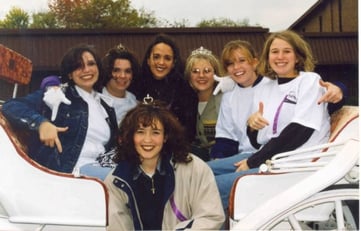 Over the last 17 years, Jennifer Neely and her friends, who affectionately call themselves the YoYos, for reasons no one can quite remember, have continued to develop their friendship across hundreds of miles. A 1998 Trevecca graduate, Neely, has beaten the odds to stay in touch with her former classmates.
Neely, who currently serves as the coordinator of the sophomore year experience at Trevecca, is originally from Crossville, Tenn., located about 100 miles east of Nashville. She arrived on campus as a non-Nazarene with very few connections; but, like many students past and present, she instantly felt welcomed.
"I came to campus and it felt like home," she recalls.
By her junior year, Neely had formed a group of friends who she knew she could depend on.
"They helped form who I am," she says. "We shared life together. We literally lived together… it was very transformational."
Since college, the YoYos have spread out, spanning the country from Texas to North Carolina and numerous states in between. The distance has forced the women to work hard to stay in contact. They have an ongoing group text and Facebook message to make sure they are up-to-date on each other's lives.
The friends have had their fair share of struggles, too. The YoYo's have dealt with death, infertility, adoption and the various challenges of life—together. But through it all, they've continued to reach out to one another.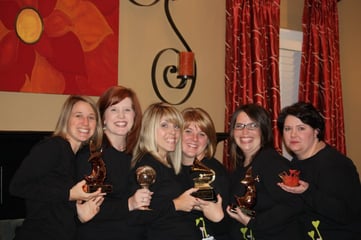 "We've just shared a lot of grief and struggle, and then a lot of happy, too," says Neely. "It's just the good and the bad, and the fact that they will accept me, and we accept each other for who we are."
For Neely, that kind of love and support has been evident during the recent adoption of her son. She says her friends have been faithful to stay up-to-date on her and the baby.
"They're constantly checking on me…and they want to see pictures, so you know, we're just sharing life as best we can hundreds of miles away."
Neely attributes the YoYos long-standing friendship to multiple factors: their like-mindedness, years of shared experiences and their foundation in Christ. Once a year, the women plan a get-together as a way to get all the YoYos together in one place and rekindle the deep relationships that have carried them through so many years. Many times, in recognition of the place that brought them into each other's lives in the first place, the YoYos have planned for their yearly trip to coincide with Trevecca's Homecoming celebration.
For those whose want to build these kinds of lifelong friendships, Neely's advice is simple.
"I think that there is the potential for these kind of groups all across campus," she says. "It's just a matter of finding your people and just digging in and being real with them."
As Homecoming 2015 approaches, consider coming home to the Hill. Reunite with those whose lives, experiences and callings are interwoven with yours within the great story of Trevecca.
TNU Homecoming 2015
November 5 -7
For more information and to register: trevecca.edu/homecoming
#HomeToTheHill15