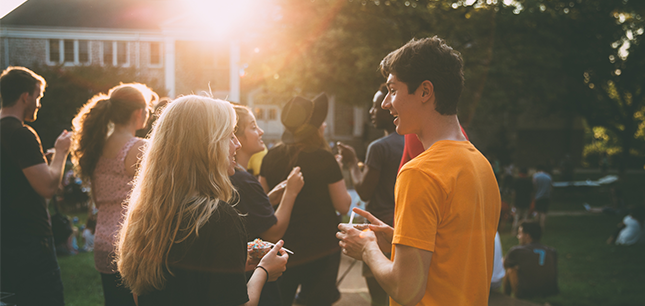 Choosing where to complete your degree is a big decision. Here are a few reasons Trevecca could be the right fit for you.
1. We give you the credit you deserve.
We want to give you credit for the hard work you've already done. We'll evaluate your transcripts and explain in detail how your credits transfer. Students who've earned an associate degree can transfer seamlessly, knowing most general education requirements will be fulfilled.
2. You get to study in a city unlike any other.
Trevecca is located just 1.5 miles from downtown Nashville—close to the best restaurants, music venues, and all the things that make our city shine.
3. Your professors will know your name.
With a student-faculty ratio of 18:1, you aren't just a number at Trevecca. Our professors want to get to know you and mentor you as you seek to follow God's leadership.
4. We prepare you for the rest of your life, not just a job.
Our desire is to help you discover God's calling on your life. We want to help you develop the gifts, skills, and passions He has given you.
5. You'll become part of a tight-knit Christian community.
Trevecca offers small town community in the heart of a big city. Trevecca is a Christian university, and we challenge and encourage you to grow deeper in your faith through classes, chapels, and daily interactions with faculty, staff, and administrators.
6. We make the transfer process simple.
You've got a busy schedule, and we don't want to make the transfer process difficult. Just complete our free application and have your official transcripts mailed to Trevecca. We'll take it from there. Apply as early as possible to take advantage of our many scholarship opportunities.
7. We can help make finishing your degree possible.
We offer generous financial aid options to our transfer students. From scholarships to grants and work-study programs, we make a college degree possible. To make things easier, your application to Trevecca also serves as your application for all Trevecca scholarships.